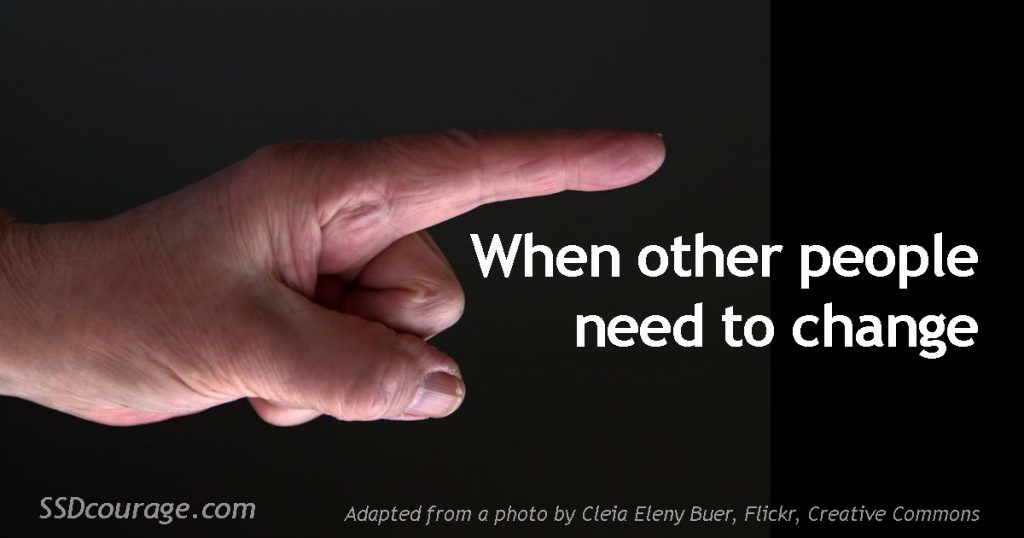 How much power do other people have in your life?
I don't know about you, but more than once I've had this kind of thought:
"Someone needs to change for me to be okay…"
Maybe it's a boss, a spouse, a coworker, a child, a parent, a sibling, a friend. I spent the first fifteen years of my marriage trying to change my wife, and the exercise only served to make us both unhappy.
I get it. Some people are trapped in abusive relationships and cannot escape. Think North Korea, human trafficking, the Holocaust. Which brings me to this disclaimer: If you're in an abusive relationship, and you have the power to get out, get out! Now. Don't wait. Get help. Get to a place of safety.
But most of us are NOT in that situation. Most of us are simply triggered by the actions of other people. Their anger, their rudeness, their quirkiness, or something about them pulls up in us all kinds of feelings that leave us…uncomfortable.
Why doesn't God change them?
Okay, I won't speak for you. I'll speak for myself. God didn't change the people who were triggering me because He was busy trying to help me grow. He was showing me, among other things, that I was giving other people way too much power in my life. Why would I give someone else the power to control my happiness?
He was showing me how to take that power back and keep it inside myself where it belongs.
I'm a work in progress on this—for sure. But the more God works with me, the less other people trigger me. And that is a good thing.
Hey, could you do me a favor? I'm trying to decide where to focus my energies. Would you like to see me create more resources on this topic? Vote on my blog, ping me back, leave a comment—could you let me know? Thanks!
Would you like to see me offer additional resources on finding the power not to be triggered by other people?
Thanks for voting. It really helps!
---
Bible trivia:
Answer from last time: Jesus and King David were both born in Bethlehem.
I'm going to retire the Bible trivia section of this blog for now so we can focus more on other content. Many thanks to those of you who sent me notes on the Bible trivia. 🙂