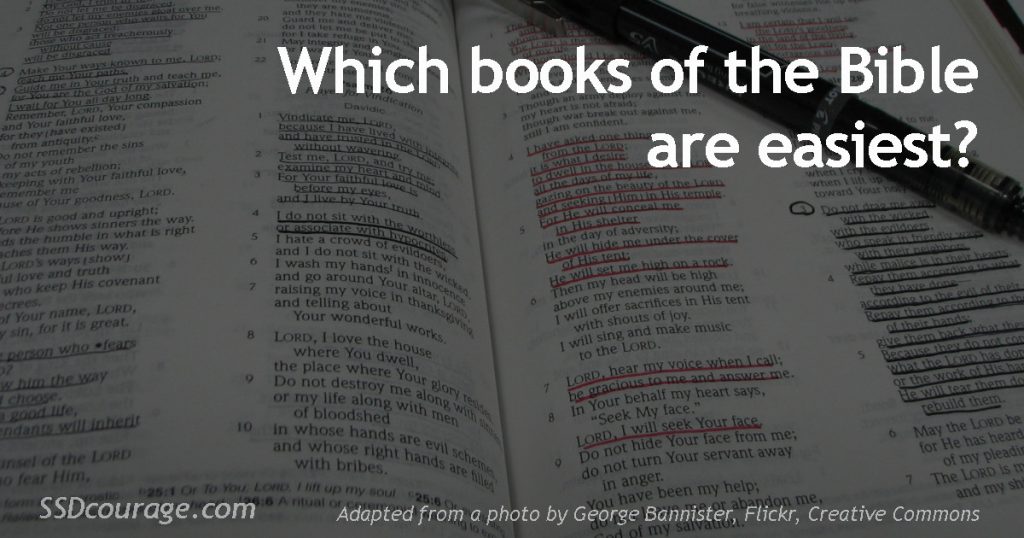 Below I've ranked the 66 books of the Bible from easiest to most difficult to read. See notes below the list. I know this is longer than my usual posts, but I thought you might like this list.
Ruth – short, easy to understand story (4 chapters)
Jonah – easy-to-read narrative containing a poetic prayer (4 chapters)
Mark – easy-to-read narrative, the story of Jesus (16 chapters)
1 John – easy words, profound thoughts on our relationship with God and each other (5 chapters)
Luke – more detailed easy-to-read narrative – some knowledge of Old Testament helpful – story of Jesus (24 chapters)
Philippians – a letter discussing humility and joy in suffering (4 chapters)
Matthew – mostly easy to read narrative, contains many references to the Old Testament (28 chapters)
Acts – mostly easy to read narrative of the early church (28 chapters)
1 Samuel – easy to read narrative containing the familiar David & Goliath story among others (31 chapters)
2 Samuel – easy to read narrative (24 chapters)
Judges – mostly easy to read narrative (21 chapters)
John – narrative, speeches and commentary – easy words but profound thoughts, at times challenging (21 chapters)
Esther – easy-to-read narrative (10 chapters)
Genesis – mostly easy-to-read narrative (50 chapters)
Ephesians – a combination of theology and instruction for Christian living (6 chapters)
Colossians – similar to Ephesians (4 chapters)
Philemon – a letter returning a runaway slave (1 chapter)
3 John – a brief letter on waking in the truth (1 chapter)
2 John – a brief letter on loving one another (1 chapter)
2 Timothy – instructions to a young pastor (4 chapters)
1 Timothy – instructions to a young pastor (6 chapters)
1 Corinthians – a letter to a church with problems (16 chapters)
James – a discussion of practical Christian virtues (5 chapters)
Daniel – narrative combined with apocalyptic dreams and visions – makes much more sense if you have a solid understanding of history (12 chapters)
Galatians – a letter explaining the Christian concept of grace (6 chapters)
2 Corinthians – a letter to a church with the author defending his authority (13 chapters)
1 Peter – a letter to Christians who are suffering (5 chapters)
Titus – instructions to a young pastor (3 chapters)
Proverbs – short sayings of ancient wisdom (31 chapters)
Psalms – a collection of song lyrics – mixture of easy, poetic, profound, puzzling (150 chapters)
2 Kings – combination of narrative and history (25 chapters)
1 Kings – combination of narrative, history and architecture – some of the narrative (e.g., ch 13) is puzzling for modern reader (22 chapters)
Exodus – first half is mostly easy-to-read narrative, second half is law & architecture requiring some knowledge of history and ancient culture (40 chapters)
Joshua – some easy-to-read narrative together with a great deal of geographical information (24 chapters)
1 Thessalonians – a letter to a church discussing faith and the return of Jesus (5 chapters)
2 Thessalonians – a letter to a church discussing the "Day of the Lord" and warning against idleness (3 chapters)
Song of Solomon (also called Song of Songs) – newlyweds expressing their admiration for one another in colorful language based in ancient culture (8 chapters)
Romans – a complete Christian theology, in places difficult to follow (16 chapters)
Jude – a letter warning against false religion (1 chapter)
2 Peter – a warning against false teachers and discussion of the "Day of the Lord" (3 chapters)
Ecclesiastes – a search for wisdom, challenging because it isn't always clear what is intended as truth and what is intended as processing (12 chapters)
Zechariah – colorful, apocalyptic visions with explanations (14 chapters)
Revelation – the apocalyptic vision of John (22 chapters)
2 Chronicles – history and narrative (36 chapters)
Nehemiah – narrative and lists (13 chapters)
Malachi – a plea for God's people to return to Him (4 chapters)
Haggai – an exhortation to rebuild the temple (2 chapters)
Jeremiah – narrative, warnings, predictions (52 chapters)
Job – narrative mostly in the form of dialogue (speeches) filled with figures of speech – tackles complex issue of suffering (42 chapters)
Hebrews – a letter to Jewish Christians helping them process the transition from Judaism to Christianity while facing persecution (13 chapters)
Hosea – a prophet compares his own unstable marriage to God's relationship to Israel (14 chapters)
Habakkuk – poetic look at God's practice of using evil nations to accomplish His purposes (3 chapters)
Amos – warnings and a call for justice, visions, some narrative (9 chapters)
Ezra – lists, genealogies and narrative (10 chapters)
Isaiah – combination of narrative, warnings, predictions requiring a solid knowledge of Biblical history and culture (66 chapters)
Lamentations – a poem lamenting the fall of Jerusalem (5 chapters)
1 Chronicles – extensive genealogies together with narrative and lists (29 chapters)
Numbers – some easy-to-read narrative interspersed in census data and ancient laws (36 chapters)
Deuteronomy – laws, promises and warnings to ancient Israel with some narrative (34 chapters)
Ezekiel – a collection of encounters with God together with warnings, predictions and architecture. Highly figurative language in places. Some knowledge of Levitical law required (48 chapters)
Obadiah – a prophecy against Edom (1 chapter)
Zephaniah – warnings and prophecies (3 chapters)
Micah – warnings against Israel – knowledge of history helpful (7 chapters)
Nahum – poetic warnings against Nineveh (3 chapters)
Joel – poetic and sometimes symbolic warnings and prophecies requiring a knowledge of history and culture (3 chapters)
Leviticus – collection of laws primarily relating to sacrifice and Old Testament priesthood and sacrifices; challenging to read without a thorough Biblical and historical background (27 chapters)
When creating this list, I factored in
the potential to get bogged down
different tastes and different attention spans of different readers
popularity of the book
how well a given book is likely to hold the attention of a Western reader
the potential for misunderstanding or misinterpretation
the distance between the words and the meaning
As a rule, I felt that
Narrative (story) is easier to read than instruction, lyrics or theology.
The New Testament is easier to read than the Old Testament because most readers are closer to the New Testament in culture and mindset.
Books containing controversial passages are more challenging than books that don't contain such passages.
Prophetic books tend to be more challenging because they presuppose a knowledge of law, history and culture. They also tend to be written in poetic syntax making them somewhat more difficult to read. Some poetic books are rich in figures of speech and / or symbolism making the book even more challenging.
Some Christians see John as the easiest of the four Gospels possibly because it contains John 3:16 and passages that support elements of evangelical theology. But I see John as the most challenging of the four Gospels. Although the words are easy, the meaning is sometimes difficult to follow. John is a combination of narrative and essay which I feel is more difficult to read than straight narrative.
Some Christians consider Revelation to be the hardest book in the Bible. I disagree. Revelation has a reputation of being filled with impossible-to-decipher symbolism, but in fact much of Revelation is straightforward. It is a challenging book, but not the hardest, in my view.
If two books were otherwise equal, I chose the shorter book as the easier to read.
This should not be construed as saying that some books are better than others. Some of the most challenging books are, to me, the richest in meaning, but you do need to work harder to get at that meaning. For example, I love the book of Job–it's one of my very favorites, and I've benefited so much from pondering it. But I do rank it 49 out of 66 in this list.
You might rank the books of the Bible differently based on many factors including the version of the Bible you are using, your own literary preferences, your background and understanding of the Bible, history, ancient culture and law.