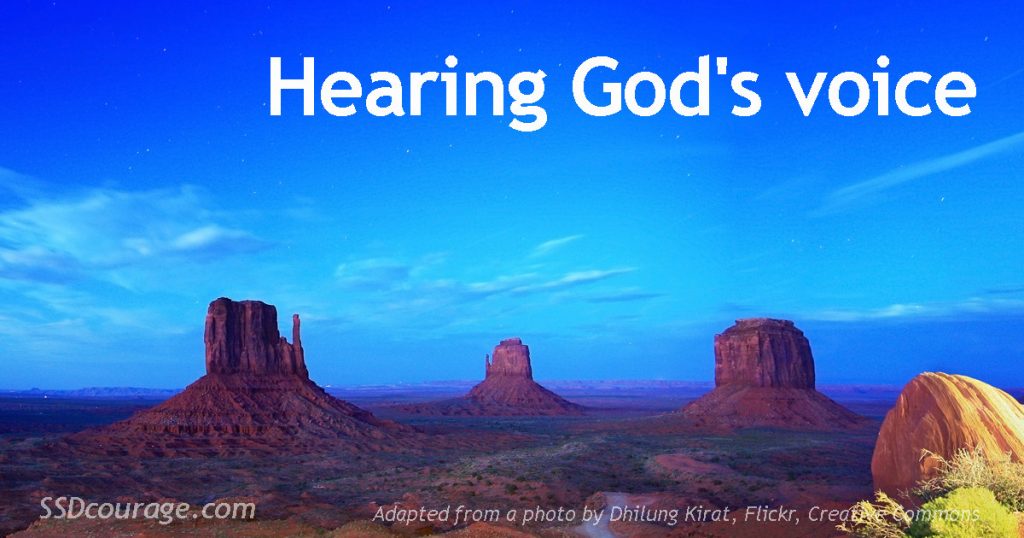 The ability to carry on a conversation with God is the birthright of any child of God. Prayer was never meant to be a monologue that ends with "In Jesus' name, Amen." Rather it is an ongoing dialogue between you and God, filled with laughter at times, tears at times, chit chat at times, serious business sometimes, jokes at other times.
You have a Father in heaven who likes you, who cares about you, who likes spending time with you. Your Father expects to have a relationship with you, just like a good father in any reasonably healthy family wants to have a relationship with his children.
The Bible confirms this expectation. In John 10:27, Jesus says that His followers can hear His voice. Romans 8:16 tells us the God's Spirit talks with our spirits. 2 Corinthians 13:14 invites us to experience "fellowship" with God's Holy Spirit. The Bible is filled with examples of people hearing from God (Genesis 15:4, 1 Samuel 3, 1 Kings 6:11, 1 Kings 13:1, 1 Kings 17:2, Jeremiah 2:1, Acts 8:29, etc.). Jesus tells His disciples that the Spirit will guide them into all truth (John 16:13).
But suppose you don't experience this kind of give and take, this kind of ongoing conversation with God in your life. Does that mean that you are somehow a second class citizen, that there's something wrong with you?
Not at all. For many years I didn't hear from God, and I was clueless as to how to go about learning this process. This isn't something that is regularly taught in most churches, so let me share some things with you that I've found helpful.
This isn't spooky. It isn't weird. You probably won't hear an audible voice, though you might. You probably won't see any visions, though you might. You probably won't have any angels appear to you, though you might. Mostly, hearing from God is just a quiet inner voice or an inner sense of what God is saying to you.
Is it foolproof? No. You might think you're hearing from God when you're not, though I'll give you some suggestions that will help you validate what you get when you ask God a question. If there's ever a conflict between what you think you're hearing from God and what God clearly says in the Bible, go with the Bible every time. God isn't going to tell you to steal or commit adultery or engage in other behaviors that are contrary to what He has revealed in the Bible.
More next time…
This post is adapted from content found in my book Spiritual Self Defense. More info here:
http://dwightclough.com/books2/dwight-clough-books/spiritual-self-defense/
---
Bible trivia:
Answer from last time: Keturah was the mother of Abraham's other children.
New question: According to Zechariah, what is the exact location where the Lord will return to earth?